Yearn.finance (YFI) has been one of the worst-performing assets over the past few weeks. As this outlet has reported, the : Here's Why Ethereum's DeFi Market May Be Near A Bottom
Yearn.Finance's YFI Must Secures $ 16,000 To Reclaim Technical Position
One crypto-asset analyst recently shared the chart below. It shows that while the leading Defi

"People looking at the broken 4h diagonal for $ YFI as the catalyst for a full reversal have very short memories. Nothing remotely attractive about this until it breaks $ 16k."

Others say that it looks on track to drop under $ 10,000 as the macro market structure has yet to form signs of bullish recovery.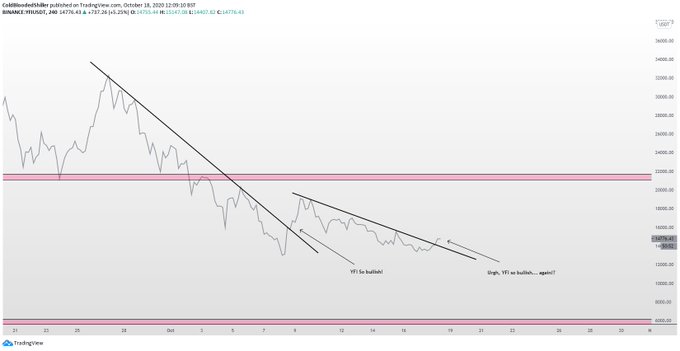 Source: YFIUSD from TradingView.com. Analysis of the coin's price action over the past four weeks by crypto trader Cold Blooded Shiller (@ColdBloodShill On Twitter)
Fundamentals Strong
Fortunately for YFI holders, the fundamentals of the underlying protocol and the

$ YFI 👀 pic.twitter.com/YMvESkEbXr

— Alex Svanevik 🧭 (@ASvanevik) October 17, 2020

Adding to this, ongoing testing is taking place with Yearn.finance's v2 Vaults, which will unlock another level of yield farming for depositors. This should help to drive YFI's revenue higher as well as there is a performance fee charged, along with a withdrawal fee on some deposits.

Whether or whether not the 3 Bitcoin On-Chain Trends Show a Macro Bull Market Is Brewing
Featured Image from Shutterstock Price tags: yfiusd, yfibtc, yfieth Charts from TradingView.com Yearn.finance (YFI) Won't Look Good Until It Secures $  16k, Analyst